2021 is all about tranquility, and that notion is not lost on this year's flooring trends. Consumers are more interested than ever in bringing the serenity of nature indoors. Wood flooring is the perfect way to achieve all of this by its beautiful design and functionality. Wood floors are practical, beautiful, and comfortable. Here are the Flooring Trends for Spring You'll Want to Bring Home this year.
Mix it Up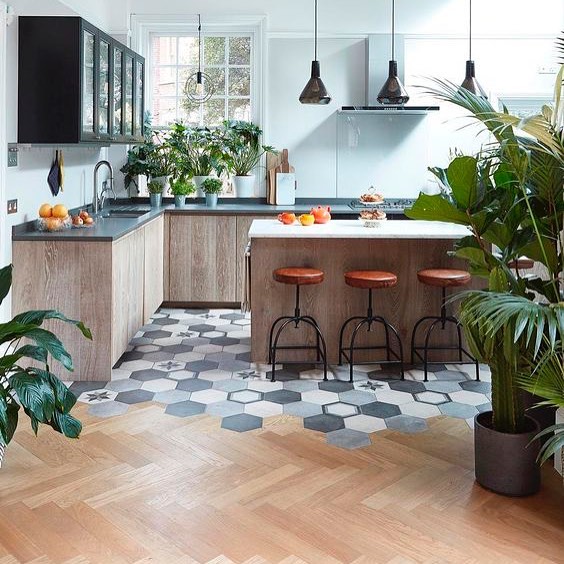 2020 found us using dining rooms for offices and living areas for school rooms. This trend is carrying forward into flooring. Highlight different areas of your living space with flooring to match it purposes.

Don't fret. It's perfectly acceptable to mix it up in your new multi-functional living spaces. Think tiles for high traffic areas, and a laminate flooring for the rest. This technique does not only look appealing, it's a great way to visually separate the area's function.
A Return to Days of Old
Wood flooring with a rustic flair is back this year. A "hand-scraped" or "wave" style flooring mimics naturally milled wood with scuff, marks, and imperfections to give the flooring a true vintage look. Uneven boards lend themselves to this year's trends toward cozy interiors.
Tile with Style
We all know tiles are an ideal flooring for kitchens, halls, and bathrooms, New and unique tile designs let us choose tiles that imitate wood, stone, or even leather. If you don't want to lose the cozy look of a living area, look for beautiful tiles with a wood-look style.
Another flooring trend with tiles include large, geometric patterns. There are many ready-made ideas that will turn your living or office space into a work of art. Start with a pattern template, and let your imagination run wild.
Parquet is Here to Stay
The definition of parquet is "flooring composed of wooden blocks arranged in a geometric pattern." Simple, but, parquet flooring is timeless, elegant, and beautiful. Nothing adds a look of aristocracy to a room like a traditional herringbone wooden floor. Never mind that your parquet floor is home to your dog's bed, and your children's toy bucket – It's your castle.
Flooring in Full Color
Maybe it's our answer to a glum 2020, but color is back in and that includes flooring. There are many options to choose from, whether you are going to use bright colors in combination with other types of flooring or let it stand on its own. Step into this year's trend toward large geometric patterns with bold, beautiful, and mega-colorful tile flooring. Make your statement the way you want in whatever room you choose.
Low Cost Projects to Help You Sell'