Whether you're a minimalist or a proud collector, there are plenty of ways you can decorate your bookshelves to match your style. Find inspiration for displaying your most prized possessions, books, knick-knacks, and more with these five styling ideas.
1) Less is more
Allow room on your shelves to breathe. With airy shelving, you can admire your favorite keepsakes without feeling overwhelmed by clutter. A simple and balanced arrangement is fitting for contemporary spaces and ideal for a minimalist style.
2) Pop of color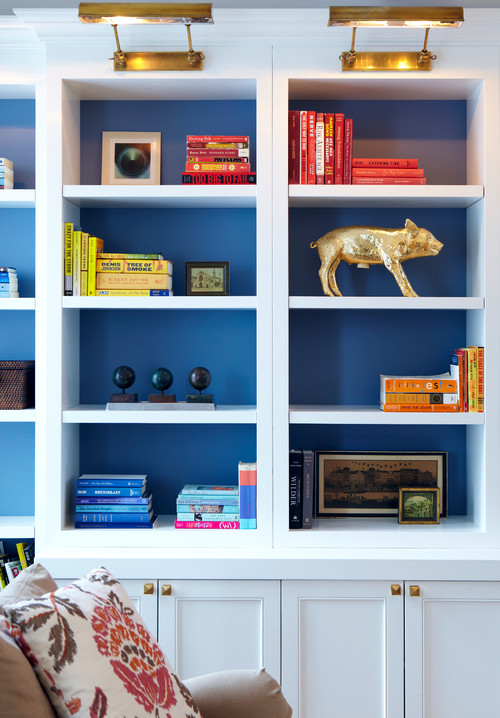 Photo courtesy of Houzz
Give your bookshelf a colorful makeover with the paint color of your choice. Painted in Satin finish, this bookshelf's grey-blue pops against white cabinets. Feeling a tad daring? Go for Pantone's Color of the Year and bring some purple into your home. Keep one-third of each shelf empty so that you can easily see the color behind each item.
3) Dark & bold
If your space is dark and modern, choose larger and bolder accessories. Tall accent pieces, picture frames, and stacked books look best gathered in odd numbers. Be sure to add contrast in height so that each shelf looks balanced. Experiment with an eclectic collection of items until your bookshelf becomes the room's main focal point.
Tips for creating scale and proportion when decorating
4) Controlled chaos
Showcase an assortment of your favorite books, photos, and accessories in an organized display. Arranging your books by size and color will prevent your shelves from looking cluttered and chaotic. Have fun with creating different patterns and giving your shelves style and structure.
How to stack 7 books 7 different ways
5) Floating scales

Floating shelves are great for your home because of their versatility. You can place them in any room in a number of display styles — symmetrical, asymmetrical, wide, or narrow. The important thing to remember when decorating these shelves is to keep it balanced. Think of each shelf as a scale — placing too many large items on one side will throw off the balance and make it look unproportionate.